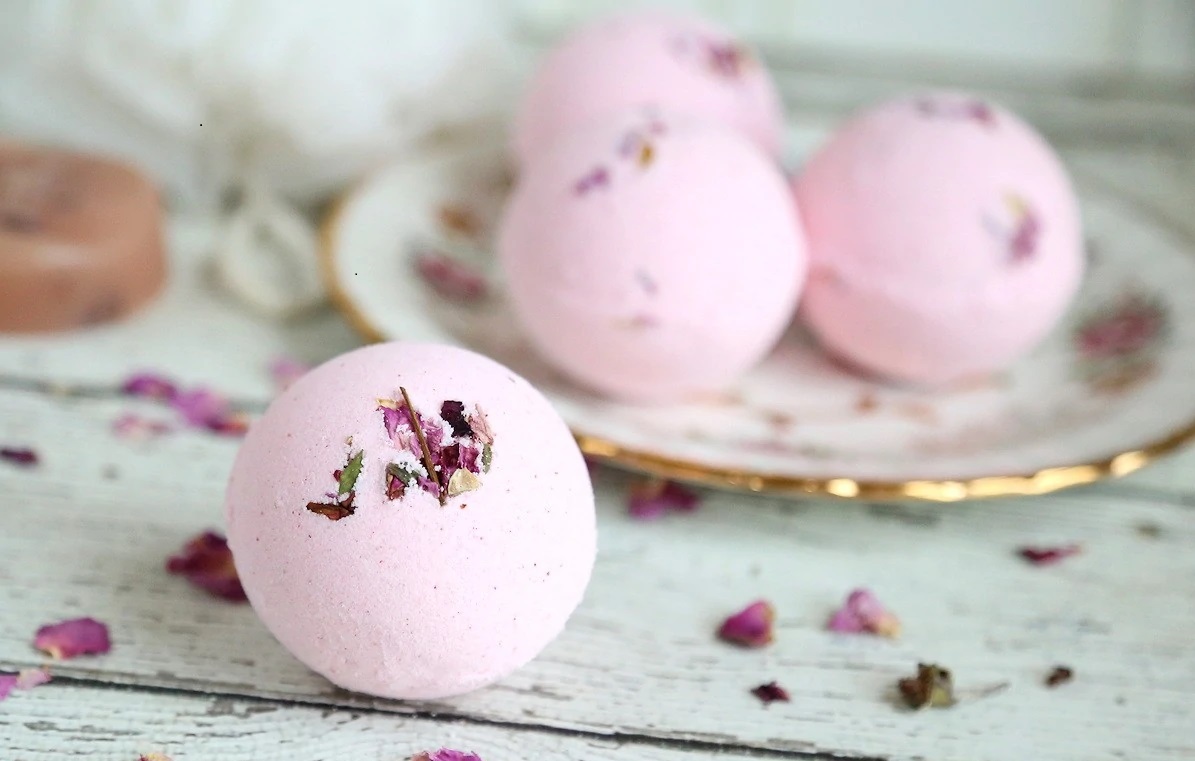 Anyone who loves to discharge the accumulated stress by relaxing with a nice hot bath can not help but know the so-called bath bombs. It is, in pennies, an "effervescent" alternative to the most common bath salts. They are very simple to prepare athome; customizable  in fragrances, shapes (they are called bombs but we can decide to give them whatever shape we want), in colors, depending on the components we choose to use; and they can be a great Christmas gift idea, eco-friendly and of great scenic effect,  for our friends..
So, let's see how to prepare our very own fizzy bath bombs at home.
What we need:
Ingredients:
200 g baking soda
100 g corn starch
100 g citric acid
100 g epsom salts (optional)
30 drops of essential oil
1 teaspoon of almond oil (or olive oil, coconut oil or other vegetable oil)
q.b. natural dyes (we can use both powdered dyes -which will have a greater coloring power-, and liquids)
Tools:
1 small bowl
1 large bowl
1 teaspoon
1 splash with water
molds of various shapes (balls, stars, cubes…)
How to do:
Mix the dry ingredients in a large bowl (bicarbonate, corn starch, epsom salts, citric acid, dye -if powdered-). In a small bowl, mix the wet components (almond oil, essential oil, dye -if liquid-). At this point slowly pour the wet components into the bowl with the dry ingredients. Spray small amounts of water if necessary. Warning: If mixture gets too wet it will activate the fizzy part of the bath bomb too soon!
Continue stirring until you get a mixture with a sandy consistency. You can add a small amount of almond oil, rather than other water, to help yourselves getting the right consistency. Once ready, the mixture can be transferred to the molds we have chosen, taking care to compact well, filling all the spaces.
In case we have chosen double molds, once the two halves have been filled, just join them by pressing well and wait a few minutes before unmolding the bombs. If instead we have decided to opt for different shapes and "open" molds, we can use a weight to "press" the mixture and prevent it from catching, waiting for it to stabilize.
How to store our bombs:
Once formed, wrap the bath bombs in transparent film, preventing them from taking moisture. You can store them for about six months.
The bombs can be further customized by adding to the mixture, also depending on the essential oil chosen, lavender flowers, rose, fragments of orange peel, lemon, bergamot, coffee powder.
And now…
Have a fizzy day!!!